PVC Hard Pipe For Above Ground Pools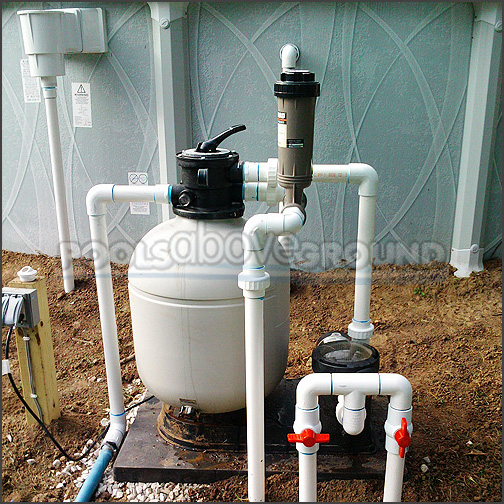 This upgrade simply replaces the factory flex hoses that connect the filter system to the pool with hard PVC pipe. Replacing them makes good sense as the Florida sun is brutal and can cause the thin and flimsy flex hoses to dry out, become brittle and leak or burst over time. The Hard Pipe upgrade will last a lifetime and is great for any above ground pool new or old.
If having a professional pool installation, the installers often offer the install service of a basic hard pipe kit with valves for around $150 including parts and labor. It's also a great DIY project for those familiar with basic plumbing, and all the components required installation are available at any hardware or home improvement store. Be sure to add valves before and after the filter system to stop the flow of water, making the pool filter much easier to service.
Fort Myers Area Cities We Proudly Serve
Alva, Anna Maria, Bayshore Gardens, Bee Ridge, Bokeelia, Bonita Springs, Bradenton, Bradenton Beach, Buckingham, Burnt Store Marina, Cape Coral, Captiva, Charleston Park, Charlotte Harbor, Charlotte Park, Chokoloskee, Cleveland, Cortez, Cypress Lake, Desoto Lakes, Ellenton, Englewood, Estero, Everglades City, Fort Myers, Fort Myers Beach, Fort Myers Shores, Fruitville, Gateway, Golden Gate, Goodland, Grove City, Gulf Gate Estates, Harbour Heights, Harlem Heights, Holmes Beach, Immokalee, Iona, Island Walk, Kensington Park, Lake Sarasota, Laurel, Lehigh Acres, Lely, Lely Resort, Lochmoor Waterway Estates, Longboat Key, Manasota Key, Marco Island , Matlacha, Matlacha Isles, Matlacha Shores , McGregor, Memphis, Naples, Naples Manor, Naples Park, Nokomis, North Fort Myers, North Port, North Sarasota, Olga, Orangetree, Osprey, Page Park, Palmetto, Palmona Park, Pelican Bay, Pine Island Center, Pineland, Pine Manor, Pine Ridge, Plantation, Plantation Island, Port Charlotte, Punta Gorda, Punta Rassa, Ridge Wood Heights, Rotonda, Saint James, Samoset, San Carlos Park, Sanibel, Sarasota, Sarasota Springs, Siesta Key, Solana, South Bradenton, Southgate, South Gate Ridge, South Sarasota, South Venice, Suncoast Estates, The Meadows, Three Oaks, Tice, Vamo, Venice, Venice Gardens, Verona Walk , Villas, Vineyards, Warm Mineral Springs, West Bradenton, West Samoset, Whiskey Creek, Whitfield
Above Ground Pool Dealer For These Zip Codes