Pool Skimmer For Above Ground Pools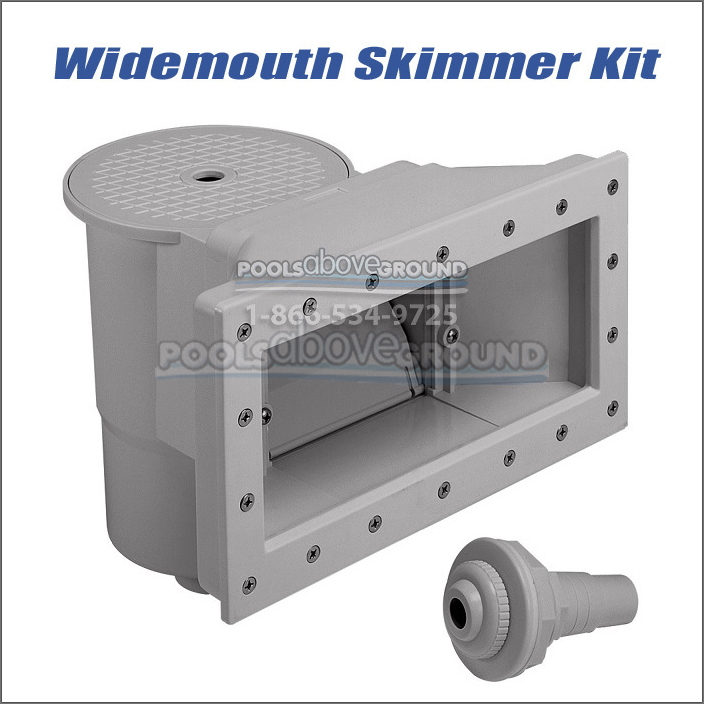 Above ground pool skimmers are one of the most overlooked replacement parts of the above ground pool. As odd as this may seem, the pool skimmer area is responsible for 90% of pool wall rust outs. Corrosion around the skimmer opening this the number one cause of pool wall failure. The leaks that cause the pool to rust are usually due to bad skimmer gaskets or stripped out skimmer screw holes. Skimmer screw holes become stripped out because they skimmer screws are either over tightened during installation or the plastic has become brittle and cracked. Disassembly and re-assembly due to pool liner replacements are often the cause if these leaks. Fort Myers sunshine can take it's toll on your pool, closely examine your skimmer box for cracks, stripped screw holes or broken pieces before installing that new pool liner.
Be sure to look closely at the gaskets too as these are the culprit of many pool skimmer leaks. The best way to address the issue is to purchase a complete skimmer kit. They are available for most above ground pools and are very reasonably priced. Skimmer kits include everything needed to completely replace the skimmer and return jet.
Fort Myers Area Cities We Proudly Serve
Alva, Anna Maria, Bayshore Gardens, Bee Ridge, Bokeelia, Bonita Springs, Bradenton, Bradenton Beach, Buckingham, Burnt Store Marina, Cape Coral, Captiva, Charleston Park, Charlotte Harbor, Charlotte Park, Chokoloskee, Cleveland, Cortez, Cypress Lake, Desoto Lakes, Ellenton, Englewood, Estero, Everglades City, Fort Myers, Fort Myers Beach, Fort Myers Shores, Fruitville, Gateway, Golden Gate, Goodland, Grove City, Gulf Gate Estates, Harbour Heights, Harlem Heights, Holmes Beach, Immokalee, Iona, Island Walk, Kensington Park, Lake Sarasota, Laurel, Lehigh Acres, Lely, Lely Resort, Lochmoor Waterway Estates, Longboat Key, Manasota Key, Marco Island , Matlacha, Matlacha Isles, Matlacha Shores , McGregor, Memphis, Naples, Naples Manor, Naples Park, Nokomis, North Fort Myers, North Port, North Sarasota, Olga, Orangetree, Osprey, Page Park, Palmetto, Palmona Park, Pelican Bay, Pine Island Center, Pineland, Pine Manor, Pine Ridge, Plantation, Plantation Island, Port Charlotte, Punta Gorda, Punta Rassa, Ridge Wood Heights, Rotonda, Saint James, Samoset, San Carlos Park, Sanibel, Sarasota, Sarasota Springs, Siesta Key, Solana, South Bradenton, Southgate, South Gate Ridge, South Sarasota, South Venice, Suncoast Estates, The Meadows, Three Oaks, Tice, Vamo, Venice, Venice Gardens, Verona Walk , Villas, Vineyards, Warm Mineral Springs, West Bradenton, West Samoset, Whiskey Creek, Whitfield
Above Ground Pool Dealer For These Florida Zip Codes